Warm up with AgHeat Today!
FUEL EFFICIENT
With an operating pressure of 1/4 PSI to 20 PSI, the AgHeat heating system is a low-pressure system. By adjusting a single regulator all burners that are connected will respond at the same rate, giving you an infinite amount of control.
LABOR SAVING
Protecting your crop has never been easier. One person can easily do the work of three. No more refilling of individual heaters and no venting or individual adjusting. The burners are safe and easy to light.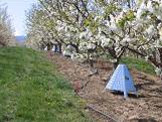 EARTH FRIENDLY
By converting to propane, you are using a much cleaner fuel with no sulfur dioxide or black smoke. There is nothing to spill, or to contaminate the soil or water. This earth friendly option also provides for a cleaner crop at pollination.